A rich collection and variety – lay witnesses, Church Fathers, saints, holy people, ordinary people. All stitched together to create this picture of a world infused with the grace of God. Fr.Steve
It has changed me. . . the way I think, the way I pray, the way I look at life! Mary C.
Every month

Give Us This Day

keeps getting better and better. Sr. Nancy Callahan
I happily use my copy of

Give Us This Day

each day, with much gratitude for the spiritual insights and the clear expression of thought. Keep up the great work. Abbot Gregory Polan, OSB, Conception Abbey.
I find it so interesting and it keeps me focused on my prayer life. Elaine
Well-grounded in both the overall Church tradition while also being written for our time and all inclusive of the many lifestyles of Catholics. Julie
A great way to start and end each day. Joe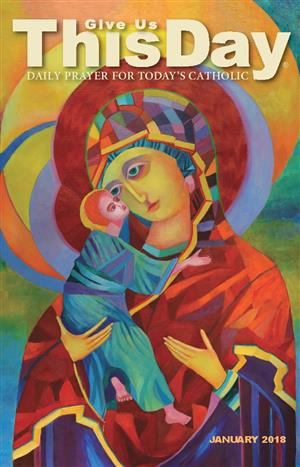 Beautiful. Simple. Life-giving.
A new, personal prayer periodical from Liturgical Press-a trusted publisher of liturgy, Scripture, and spirituality founded by the Benedictines of Saint John's Abbey in 1926.
Deeply rooted in the Catholic tradition,
Give Us This Day
®
is about prayer-praying daily, praying well, praying with confidence.
Give Us This Day
®
supports your desire to establish prayer as a part of your life, enhancing your existing practices and deepening your encounter with God by providing:
A practical approach to daily prayer

Prayers and readings for daily Mass

Daily prayer, Morning and Evening

A reflection on the Scriptures for each day